Female-focused Group Training, 8-week Challenges and one-to-one Personal Coaching, with the support of a fun and friendly training community. 
Where women empower women
Whether you're seeking weight loss, strength gains or general fitness and fun, we offer Group Training, 8-week Challenges and one-to-one Personal Coaching to help you reach and maintain your goals.
With training methods focused firmly on enhancing women's health, our experienced coaches support the unique needs of members at every age and stage of life, from adolescence to menopause and beyond.
Our supportive and nurturing environment enables even the most anxious women to gain confidence and grow to be the best versions of themselves. Family-friendly, we even offer creche facilities to care for little ones while you spend some well-deserved time working on your own wellbeing.
We can't wait to meet you and welcome you to training with the ReKreate family.
ReKreate is a place for you. A place where women empower women to become the best version of themselves. A place where the other demands of your life can take a backseat while you focus on your own health, fitness and happiness.
Training to suit you
and your goals
Whatever your health and fitness goals, and however you prefer to train, we offer an option for you.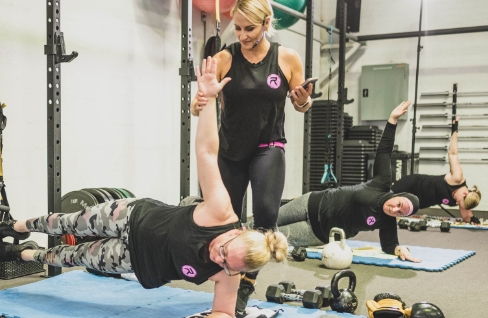 Working out in a supportive group environment is a fantastic way to push yourself further than you can on your own. And it can be a whole lot more fun as well!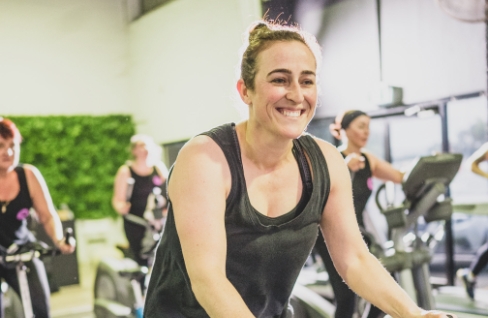 A Personal Coach will provide the motivation and tailored programming to help you achieve your health and fitness goals in the fastest and most efficient way possible.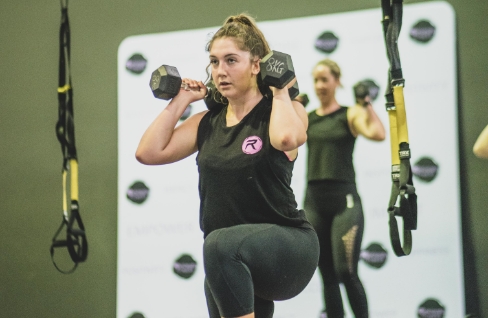 Our fantastic challenges bring focus and accountability to your training, engrain exercise habits and boost your mental health by releasing those feel good endorphins!
What does our community
say about ReKreate?
This gym is amazing!!! The trainers are super friendly, the variety of exercises is awesome and I always get a full body workout . The atmosphere is so positive and everyone is so friendly . Not to mention the creche and the beautiful ladies that look after my kids . Rekreate you are my happy place!!
This gym has changed my life. Kylie, Bec, Levana and the team run programs that are realistic and designed for women. The culture and friendships of every member is unlike anything I have ever experienced. I definitely recommend checking out ReKreate and giving it a go. During the 1 1/2 years I have been a member, I have changed so much and am improving everyday. I can't thank them enough for everything they do. 💖
Such a friendly and supportive environment which makes me want to train everyday. All the trainers are fantastic and work with you to achieve your goals. 🥊🏋️‍♀️
I love Rekreate, you will not find a ladies gym like it. Awesome supportive trainers. Great vibe. Fabulous little community. Everyone is so down to earth and lovely. The classes are rarely the same so you are never bored of doing the same thing every week. Challenges are included in your membership so you aren't outlaying money every time there is a new challenge on. You will never regret joining this fabulous gym and neither will your mind and body 💪💪
Staff are amazing! Keep you motivated and have a crèche available for the kids in the mornings which is so good! 🙂
Rekreate not only keeps me healthy and fit, it also keeps me sane! I love all my friends there and enjoy smashing sessions with them. Kylie & Bec are awesome trainers with a wealth of knowledge. I always recommend Rekreate to all my friends
I love training at Rekreate, the trainers always mix it up, challenge us & encourage us to be the best version of ourselves that we can be. The bonus is that the women that go are such fantastic people. Rekreate is super fun & challenging at the same time, a place to connect with awesome women & form real friendships and the gym where you can kick some serious butt ticking off your health & fitness goals with amazing trainers along side you every step of the way.
love the social aspect and the family environment. All the ladies are very caring and supportive.
Big shout out to Kylie and Renee from Rekreate! It's good to be around people who are passionate about health and fitness and have such great positive energy. 100% would recommend for all the ladies out there looking for a place to train!
$89 for 10 days of Unlimited Classes
We look forward to welcoming you!
We are so excited for you to trial us here at ReKreate Womens Fitness. With over 40 fitness sessions each week, ranging from strength and boxing, to High Intensity Interval Training (HIIT) and yoga, we have a workout to suit you!